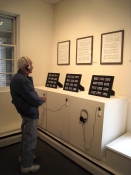 Measured Variation Exhibit
Measured Variation
Richard Garrison & Tina Seligman
October 3 - November 14, 2009
Arts Center Gallery, Saratoga Springs, NY

To see installation images, please click on this image.

For image galleries of artwork, please scroll down and click on each to see more...
---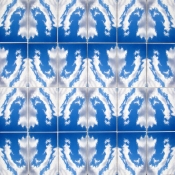 Counterpoints (2009)
To read about the series, click on "Art Statement" above the first image.
---
---
---
---
---
---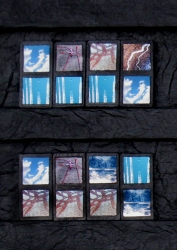 Cycles: Music (2009)
Music was transcribed from the sequence of images in each Cycles: Pattern piece. The first 3 measures are repeated, as can be viewed in the sheet music.

To hear the music, please click on this image to see the pieces and click on the audio arrow below each "Cycles: Pattern, Music" (all images can be enlarged without sound).
---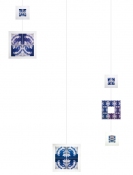 Impromptu: Clouds (2009)
Created as a site-specific hanging for The Arts Center gallery windows in Saratoga Springs, NY, the Impromptu: Clouds move in response to air and atmospheric changes from passing viewers.
---